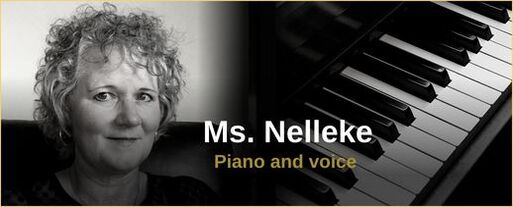 Nelleke Knarr has been teaching piano for over 30 years and it's one of her favorite things to do! She loves helping students play music in the way that they learn best, whether it's by listening, watching, improvising, composing or breaking the code of written music & theory. And she loves to make connections between her students' other interests and their music education.

Her favorite series is Piano Adventures because it has so many different styles of music and choices for supplemental books to match students' interests & learning styles. Her past students have ranged in age from 3 to 73 and in skill level from beginners to college music majors; she even taught a professional rock musician!

She wants her prospective students (and their parents) to know that she:

1) Thinks the best time to start lessons is either when they can read the instructions in the book or younger, if someone older can join them for daily practice.

2) Thinks lessons and practice should be fun, but also require dedication.

3) Doesn't really like focusing on student achievement testing.

Nelleke studied Music Therapy in college and, besides teaching, has worked as a music therapist, music director, administrative assistant, homeschool teacher, and in retail sales. Her favorite types of music are singer-songwriter, new age, classical and broadway.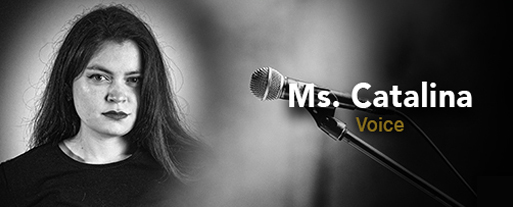 Ms. Catalina Uscátegui is a professional vocalist, vocal arranger and songwriter from Bogota, Colombia. Born into a family of musicians, she started singing at the age of three, and music has been a major part of her life ever since.

She studied musical theater, participated in different choirs, and later chose to pursue music as a career. She received a Bachelor's Degree in Music from Sergio Arboleda University, where she earned honors and merits on her thesis in: Pop, jazz, funk, R&B, soul, Brazilian music and a cappella.

​ Catalina continues to perfect her craft through ongoing studies in songwriting, contemporary vocal technique, cultural entrepreneurship, vocal pedagogy, and improvisation. She also directs and contributes to projects where she can use her skills as a vocalist, vocal arranger, and songwriter. She is the director of Voicespace, a vocal group based in Bogota where she records solo a cappella projects, as well as covers and original music.

Her passion for music and singing is rooted in: healing, connection, creativity, and an immense power for helping one another.

​ "Teaching is a very complex and fulfilling profession. It bears a huge responsibility, and it has a wide range of elements that make me enjoy it immensely: I love how much you can learn from your students and your students from you, the guidance you provide for them to reach their goals, a helping hand for them to believe in themselves and how all of this can be done through music."

​ Catalina has taught privately since 2017, tailoring her instruction to each student's goals with a focus on the music they enjoy most, She also instructs group classes on vocal technique. She teaches the LAX VOX method, with elements from the Estill Voice Method to give students a wide range of techniques used in contemporary music.

​ Her recordings include: IDARTES award "Esto Se Compone" a collaborative song project, and backup singer for Laura Otero´s song "Florecita," the cover soundtrack of Amazon prime series "De Brutas Nada"and her first single "STARS." She also also arranges music for several different musicians and bands.

​ Her hobbies include studying violin, tap dancing and piano.

​ Ms. Catalina is accepting new students seeking remote vocal instruction in Spanish or English.
Mr. Chen Flakes started classical piano lessons at five years old and has enthusiastically pursued a life in music ever since. While continuing piano studies, he added a symphonic and marching band via the alto saxophone through high school, where he took interest in modern pop and rock music. He received his first guitar as a graduation present and immediately changed his life focus to a career in music.

Chen taught himself to play acoustic and electric guitar before moving on to the bass and drums. He joined the staff at Guitar Center after high school, where he became a certified Pro Tools instructor. He also taught courses on microphones, recording, and live audio. These sessions sparked his love for teaching and eventually led him to start private instruction in 2012.

During his time at Guitar Center, Chen became an expert at live rig engineering and design. This led to numerous touring clients relying on him to construct their sets. He began designing systems ranging from 1,000 seat clubs to 10,000 seat stadiums. He also started songwriting, digital music production, and audio engineering his own material. He has collaborated with artists from local groups to Grammy award-winning artists such as Marvin Sapp and the Commissioned. ​

Mr. Chen spends his free time playing guitar, keys, bass, and drums in various bands. He has toured the United States, performed on the Vans Warped Tour through his current band, "Another October. They've released numerous records and have released a handful of music videos worldwide. His Youtube video series "Couch Covers" has become a popular global web series that features his band, "Another October", as well as top students of The Piano Cottage Studios and other local artists. Below are some of his works on either guitar, piano, or vocals. If he isn't teaching, you can find him working on Couch Covers, writing music for his band, or working on his clothing line, AO Apparel. Chen likes to include his students in his works. His students, Maddy McKay, seen on the Celebration of Music, and Noah Kolczynski, are featured in a Couch Cover below. He is also co-writing an EP for his student Ellie Brower who has recently finished her stint on Broadway and was the lead role in Matilda in Grand Rapids's Civic Theater. He's recently discovered a love for Webdesign and built the website for the Piano Cottage.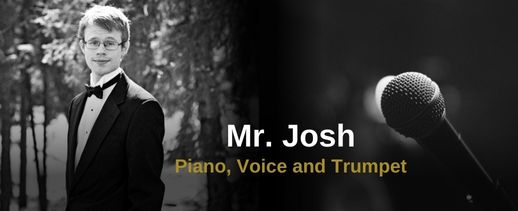 Joshua Shoemaker was born and raised in Dorr, Michigan, and he was always involved in music from an early age. As soon as he could talk, he entered the church choir. Soon he began piano lessons, and in fifth he began playing the trumpet. In high school he was involved in numerous musical activities: concert band, pep band, jazz band, concert choir, men's choir, musicals, church choir, school chapel, playing the trumpet at church, and numerous solo and activities.
Mr. Shoemaker then attended Calvin College (Calvin University) and earned a B.A. in Music in 2019. While at Calvin College, Joshua Shoemaker was involved in Campus Choir, Capella, Oratorio Society, uKnighted, private music lessons, and numerous solo and ensemble activities. These activities culminated during his senior year, when he was a solo and ensemble finalist, performed his senior recital, and a choir tour soloist.
He currently instructs piano, voice, and trumpet at the Piano Cottage. When not teaching, he is frequently composing and arranging music, as well as practicing the piano, trumpet, and voice. Outside of music, he enjoys modifying Nerf blasters and building Lego Star Wars sets.
You can view Mr. Joshua's arrangements and compositions by following
this link
Philip Pletcher, pianist, conductor, teacher, actor, composer and arranger, has been active in music since age four and has played throughout the United States and Canada. He serves on the faculty at The Piano Cottage and has maintained a private piano teaching studio for over twenty-five years, working with students of all ages and levels. He is the Artistic Director of the Schubert Male Chorus and the pianist for Grand Rapids Women's Chorus. Phil also plays for Temple Emanuel of Grand Rapids, conducts the Shir Shalom Jewish Choir and performs in collaboration with many regional musicians. Mr. Pletcher received his bachelor's degree in piano performance from Bethel University in consortium with Indiana University. His graduate study was at Michigan State University under Ralph Votapek. He has served on the board of directors of the Grand Rapids Bach Festival and on the Advisory Council for the Calvin College Artist Series. Phil is the former Director of Music for St. Cecilia Music Society, Park Congregational Church, Plymouth United Church of Christ and Wesley Park United Methodist Church. He has served on the accompanying staff of Calvin College and Grand Valley State University. He is also past President of the Michigan Music Association and Grand Rapids Piano Teacher's Forum. Phil is a Pampered Chef consultant and loves to make music at his shows. As an actor, he has performed extensively with the Lakeshore Arts Alliance at the Red Barn Theatre in Saugatuck and for Jewish Theatre Grand Rapids. He may be contacted at
www.philippletcher.com
Mr. Josh Zimmerman is originally from the West Michigan area where he began taking piano lessons at nine years old. Josh was playing at weddings and traveling to churches throughout West Michigan by twelve years old, and has been performing ever since.
Josh was a three-sport athlete in high school. After practice, he taught piano lessons to neighboring families and began running his own private studio at the age of 16. In 2017, Josh released his album "Crossroads," which is linked below:
Spotify
​​Josh attended Central Michigan University, where he graduated in 2012 with a degree in Secondary Education. Since then, Josh has held several musical posts, including band director at Sacred Heart Academy in Mount Pleasant, MI from 2012-2017, and accompanist at St. Vincent DePaul in Shepherd.
In his spare time, he enjoys: running, backpacking, camping, snowboarding, and traveling with his wife and daughter. Josh acquired ownership of the Piano Cottage in 2019. He loves the positive atmosphere and working with like-minded people with similar goals, as well as the tight-knit community The Piano Cottage is known for. Josh still finds time to be a worship leader and occasionally gigs out and performs at venues.
Ms. Deems-McCargar hails from Mt. Pleasant, Michigan where she started playing music at six years old. She took piano and voice lessons and was part of church choirs and their musical theaters. Music is something that continuously and consistently made her everyday life a little bit brighter. She'll never forget the first time she could play "chords" to a Beatles' song and has loved making musical discoveries ever since. She hopes to pass these feelings onto her students.

​ Jody entered her first piano competition at eight years old where she performed "Solfeggietto"; a short solo keyboard piece in C minor composed by Carl Philipp Emanuel Bach in 1766. She went on to win the "Womens' City Club Fine Arts Scholarship Competition" in Mt. Pleasant Michigan that provided her with a music scholarship to attend her first "Blue Lake Fine Arts Camp" and a handful of tuition-free summers at "Interlochen Arts Academy", These events introduced Jody to a higher level of piano technique, cultivated her performance skills, and increased her general musicianship.

​ Jody has studied under a litany of mentors at a variety of locations. She started with Dr. Lucille Hazecamp at Central Michigan University Mt. Pleasant from 1974-1986, Dr. Ralph Votapek at Michigan State University College of Music from 1986-1989 where she received her Bachelors of Arts Degree in Piano Performance. She then studied under Dr. Valery-Lloyd Watts and Carole Bigler at Queens University, Kingston Ontario from 1994-2006. She also spent four years studying The Suzuki Association of the Americas from 1990-1994 where she received her Suzuki Piano Instruction Certifications from The SAA/Suzuki Association of the Americas". She's also been a member of the West Michigan Piano Teacher Forum, MMTA and National Association of Music Teachers, Federation Music Clubs, St. Cecilia's Music Clubs, the Grand Rapids Federation of Musicians Local 57, and Suzuki Association of the Americas.

​ Jody is a co-founder, former Director of The Piano Cottage Studios where it became West Michigan's home to more than 500 pianists from 4-94 years old. She was also the recipient of the 91.6 WCSG Radio Station "Hometown Hero" Award. After stepping down from the Piano Cottage, Jody is enjoying her time with her husband in Middleville. They live on a 7-acre parcel of farmland that includes a small orchard and a large flower and large vegetable garden. If she wasn't teaching, she would be selling the flowers and open a small flower and donut shop. They love gardening, hiking, and cooking as well as spending time with their four adult children: Henry, Duncan, Georgia & Suzy, plus a new grandchild and their dog, Graham Cracker.

​ You may catch Jody as a hired musician, professionally for various local events including college & community theater musical productions such as The Civic Theater and the Circle Theater . She also accompanies ballet, dance studios, church events, and local high school choirs. She'll occasionally perform at weddings and private parties.
Mr. Andrés' journey with music started at a young age, taking piano lessons in his local church a couple of nights a week after school. Andrés found music to be captivating, and it was only a matter of time before he was playing piano in his church's music band. Through these experiences, he realized that music was something that he wanted to continue pursuing throughout his life.

He began his music studies at Los Andes University in Bogotá, Colombia. Changing from an empirical and "church" setting to an academic one was a big challenge. Nevertheless, under the guidance of Óscar Acevedo, Berklee College of Music (1984) and one of the leading pioneers in Colombian jazz, he understood how much of an impact an instructor can make in a student's life.

In addition to the piano, Andrés took an interest in the keyboard and production. He discovered that the keyboard is an instrument that can be used for composition and for creative arrangements in a wider array of music settings. Andrés understands that learning an instrument is not a "one size fits all" approach, and his knowledge of both the piano and the keyboard helps him to effectively tailor his instruction to fit each individual student's needs.

Graduating from Los Andes University with a bachelor's degree in music and audio production opened Andrés' eyes to the importance that music plays in our culture, and how profoundly it shapes the way we experience moments in life. He is honored that he has the ability to share his talents and abilities with other students. "Teaching somebody something is giving a real and special part of yourself, especially if we are talking about music".

Andrés loves to travel, learn languages, and share his own culture with others. "One of the things I appreciate the most about music is that it is a common language which people from all around the world can experience." As any well respected Colombian, he is very passionate about soccer, and enjoys playing it with friends every Sunday night.

Mr. Andrés is offering virtual piano lessons in Spanish, and is excited for the opportunity to help students grow musically as well as culturally. Although his first language is Spanish, he is also fluent in English.
Ms. Lucy Spinner has been described as a natural born teacher. As an early elementary student she was often found across the room "helping" a student that was struggling with their work. Her teacher suggested she join a music class since she didn't seem to have enough to keep her busy. The rest is history.

By the third grade, Lucy had decided she wanted to be a teacher. She began studying violin in the fourth grade and enjoyed the fun and challenge of learning music.

​ When Lucy entered high school she joined the Detroit Youth Symphony and studied privately with the late, Emily Austin, a member of the Detroit Symphony. Ms. Austin had studied at The Julliard School, under Master Instructor, Ivan Galamian.

Lucy continued private violin studies while attending Wayne State University, where she earned a Bachelor's Degree in Music Education, and after that a Master's Degree in Music Education. She is also certified as a music educator in five levels of the Suzuki teaching method for violin and cello.

​ She fulfilled her dream of becoming a teacher and taught string instrument classes for many years with Detroit Public Schools.

​ Lucy has performed extensively in quartets at weddings, private parties and conventions. She also started and conducted a community orchestra in Newaygo for several years.

Ms. Lucy enjoys the one-on-one relationship of private instruction. She views teaching as her special purpose in life. Her philosophy: Musicians never die, they just decrescendo.

​ She is welcoming new students for studies in Suzuki and traditional violin, cello, and viola.
Mr. Wright McCargar has taught and performed since he was 5 years old, when he started piano lessons. His time at Blue Lake Fine Arts Camp really cemented his love for music. He played in various groups which led to his first gig at the company party of one of his band member's parents.

Wright continued to study music privately through high school. He attended Michigan State University, where he received a B.A. in Music Ed. He is also a Certified Recording Engineer through RAIA and Grand Awards winner through Grand Rapids Theater.

If Wright is not teaching, you can find him camping or woodworking. However, those will always be hobbies because Wright knew he would be a music instructor ever since he was inspired by his high school music director. This is what would drive him to start the Piano Cottage. He helped to cultivate it's signature collaborative spirit for families, students, and teachers.

You can catch Wright performing in all sorts of groups, such as the River City Jazz Band, Fountain Street Church, Amy Young and Mood Swings, various combos, and the West Michigan New Horizons Bands. He has served as music director for both Civic Theatre and Circle Theatre the past several years and looks forward to returning to the podium as soon as performances restrictions are eased from the pandemic. Former student, Tony Moceri, who is studying music at Michigan State University, often performs in local theatre as well.
Originally from Pennsylvania, Ms. Elizabeth Ann Leete began her musical journey at the age of seven, when her family purchased a new piano. She has been singing and performing from the bench ever since!

Ms. Betsy attended the University of Delaware for her undergraduate degree where she studied Music Education. She later transferred to Aquinas College, where she completed her Bachelor of Arts degree in Education, with an emphasis in Music Education. Betsy continued her education to receive her Master's Degree in Music Education from New York University.

As a public school educator throughout her life, she has taught a variety of subjects including keyboard studies, piano performance, general music, theory, choir, and keyboard labs in Brooklyn, the Bronx, New Rochelle, New York, as well as Newark, New Jersey.

​ In addition to her skills as a music educator, Ms. Betsy is an accomplished vocalist and keyboardist and spent several years performing and traveling with popular keyboard-based bands.

Since her return to Grand Rapids, she has taught privately, as well as at other area music studios. She has taught music for more than fourteen years.
Ms. Cassidy Elzinga is a passionate voice and piano teacher with over 10 years of experience performing in classical, musical theater, and contemporary genres.

She studied Vocal Performance at Wheaton College Conservatory. Some of her favorite performing roles include, Susanna from 'Le nozze di Figaro,' Carlotta from 'The Phantom of the Opera' and Sally Brown from 'Snoopy!' She has been involved in many vocal competitions in the Michigan and Chicago area and has placed in both the Chicago NATS and Michigan Youth Arts Festival competitions for voice. She has also performed as a soloist in classical concert tours in cities such as Boston, Washington DC, New York City and London, England.

She brings three years of experience teaching private lessons and has served as a vocal coach in various children's musical theater programs, directing vocals in productions such as Aladdin Jr. and Joseph and the Amazing Technicolor Dreamcoat Jr. She has also served as the Youth Worship Band Director at Covenant Life Church, sharing her passion for contemporary music with young performers.

Ms. Cassidy is dedicated to her work inspiring a love for music in her students as she guides them in building foundational understanding of their instrument while creating a space for each student to find their own unique artistic expression.

In her spare time, she enjoys yoga, hiking, snowboarding, bouldering and finding opportunities to make music in the Grand Rapids community!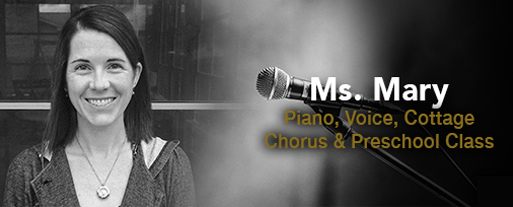 Ms. Mary is a transplant from Marne, Michigan. Growing up in a musical family helped her musicianship at an early age. Music gave her a sense of peace in her large family where she was the middle child with four siblings. She joined her church choir, where she performed her first vocal solo.

Mary started formal training under her aunt which led her to study music at Aquinas College where she received her degree in Music Education. After graduating from Aquinas, she completed her student teaching at Lakeside Elementary in East Grand Rapids and Wyoming Public Schools. She knew at an early age that she wanted to teach music and start a family.

Mary taught elementary music teacher at East Grand Rapids and Coopersville Public Schools before joining the Piano Cottage. Her classroom training and experience contribute to her effectiveness as an instructor of The Piano Cottage. She teaches voice and piano as well directing several vocal groups and choirs. One of her most memorable experiences with the Piano Cottage was the first time she directed the choir for The Piano Cottage Rocks.

Mary loves to share her passion for music. She would perform more, but right now her focus is on her family. She has four young kids who love going hiking, biking, and other outdoor activities. You can also catch her as a member of the Chamber Choir of Grand Rapids.
Ms. Carrie Steffen joined The Piano Cottage faculty in 2013.

Prior to joining The Piano Cottage, she taught music privately for five years.

A graduate of Full Sail University, with a B.A. in Music Production, Carrie also studied music education at Grand Rapids Community College.

Currently she teaches piano and combination studies in piano/voice, piano/ukulele and piano/composition. She is also an accomplished performing musician, music producer and composer. Carrie sings, plays piano, mandolin, guitar, ukulele and hammered dulcimer.

Carrie's mother was also a piano instructor and she credits her mother for inspiring a love of music. Others who played a key role in her journey to becoming a music educator include: Mrs. Jane Greenfield and Dr. Kenneth Bos, DMA.

When she is not teaching, Carrie spends her spare time in singer/songwriter mode. Listen to her original vocal/piano compositions on her Soundcloud, which is linked below.

"I was hoping to find a group of people who were as passionate about teaching music as I am. Being part of The Piano Cottage community is like a dream come true."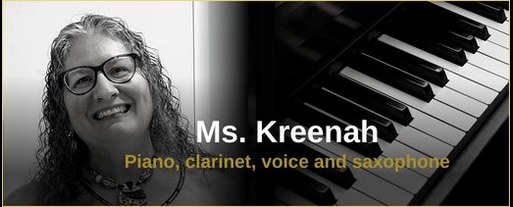 Ms. Kreenah Dunsmore is a lifelong musician, and has taught most of her adult life.

After raising and homeschooling her children, she earned her Bachelor's of Music Education at Calvin University, specializing in clarinet and piano.

Ms. Kreenah also has experience with choral music as performer, accompanist, and conductor at various churches and schools. She teaches music at The United Jewish School, plays piano with In Full Swing, Good Medicine Band, and at Von Maur at Woodland Mall. She is also active in multiple community bands in the area with her clarinet and alto saxophone. Ms. Kreenah is a guest teacher in local school districts in general and music classrooms.

One highlight of her life was cruising the Inner Passage of Alaska. She is looking forward to a trip to Israel in the summer of 2024. Ms. Kreenah enjoys reading, puzzles, coloring, the outdoors and movies.
Angie Ramirez has been playing the piano since she can remember. Brought up in a musical family, she developed her talent by pursuing piano, as well as her voice and saxophone abilities at Bethel College. In three years she received her Bachelor of Arts Degree with two majors of Piano Performance and Piano Pedagogy and a minor in Saxophone Performance and Vocal Performance. The following two years were spent at Western Michigan University working intensely on her Master's Degree in Piano Performance with a cognate in Composition.

Mrs. Angie has received many scholarships to help further her education, honors for her hard work and perseverance, and awards for compositions. At Western Michigan University, Angie was a graduate assistant with the responsibility of instruction and evaluation of four different levels of group piano to undergraduate music majors and minors. Teaching over 215 students, among 35 peers, she was awarded the Scholarship as Graduate Assistant and Graduate Certificate of Achievement of Excellence in Teaching.

Music is a very integral part of celebration in societies throughout time and Angie is blessed to have played her special blend of music for many occasions in Hawai'i the past 20 years, such as film scoring, playing for weddings, receptions, church services, brunch and banquets, and accompanying local choirs, vocalists, and instrumentalists, film scoring, as well as teaching and hosting solo piano recitals and programs. Returning now to her home state, she is beyond thrilled to start teaching multiple instruments and performing at various venues.